A special partnership with the Water Forum: "The Lower American River"
A statement by The Water Forum: Protecting our River and Water Supply
The Lower American River is one of the Sacramento region's greatest treasures. Generations of Sacramento-area residents have grown up on the river and along the parkway, enjoying its rich ecosystem of plants and wildlife. And ever since the region's first settlers, the river has sustained our lives and livelihoods by providing drinking water.
But the river doesn't just provide for us, it also needs our active stewardship.
The Water Forum was formed in 1993 to provide a way for stakeholders to design balanced water-use and river management solutions. Today the Water Forum includes a diverse group of business and agricultural leaders, citizen groups, environmentalists, water purveyors and local governments.
Members work together under the Water Forum Agreement, signed in 2000, to balance two co-equal objectives: provide a reliable, long-term water supply for our region, and protect and preserve the fishery, wildlife, recreational and aesthetic values of the Lower American River.
Stephanie's artwork—THE LOWER AMERICAN RIVER—was commissioned for the 20th Anniversary of the Water Forum Agreement. This beautiful painting celebrates the beauty and wonder of the river as our unique and cherished civic amenity and the only nationally designated "Wild and Scenic" river running through a major metropolitan area.
The artwork is also displayed as a mural at the Sacramento County Administration Building at 700 H Street in downtown Sacramento as a long-lasting tribute to the Water Forum and our region's collaboration to develop lasting and holistic solutions for nurturing the river.
Please join us and learn more about the Water Forum at waterforum.org.  Join our mailing list to stay updated.
Working with the Water Forum is giving me a new opportunity to focus on one miraculous watershed: ours. It's an example of how many watersheds work in what is now a global issue. Who are the many humans and creatures that use the river, often in competing ways? How does a river work in high flow and low? What are the implications for our futures: creatures and humans? Because California is a state of extremes, our watershed is especially critical. Because I have a degree in history and a deep fascination with water, I'm transfixed by the opportunity to learn from experts, to try to understand, and to tell the story of the Lower American through the eyes of its many creatures.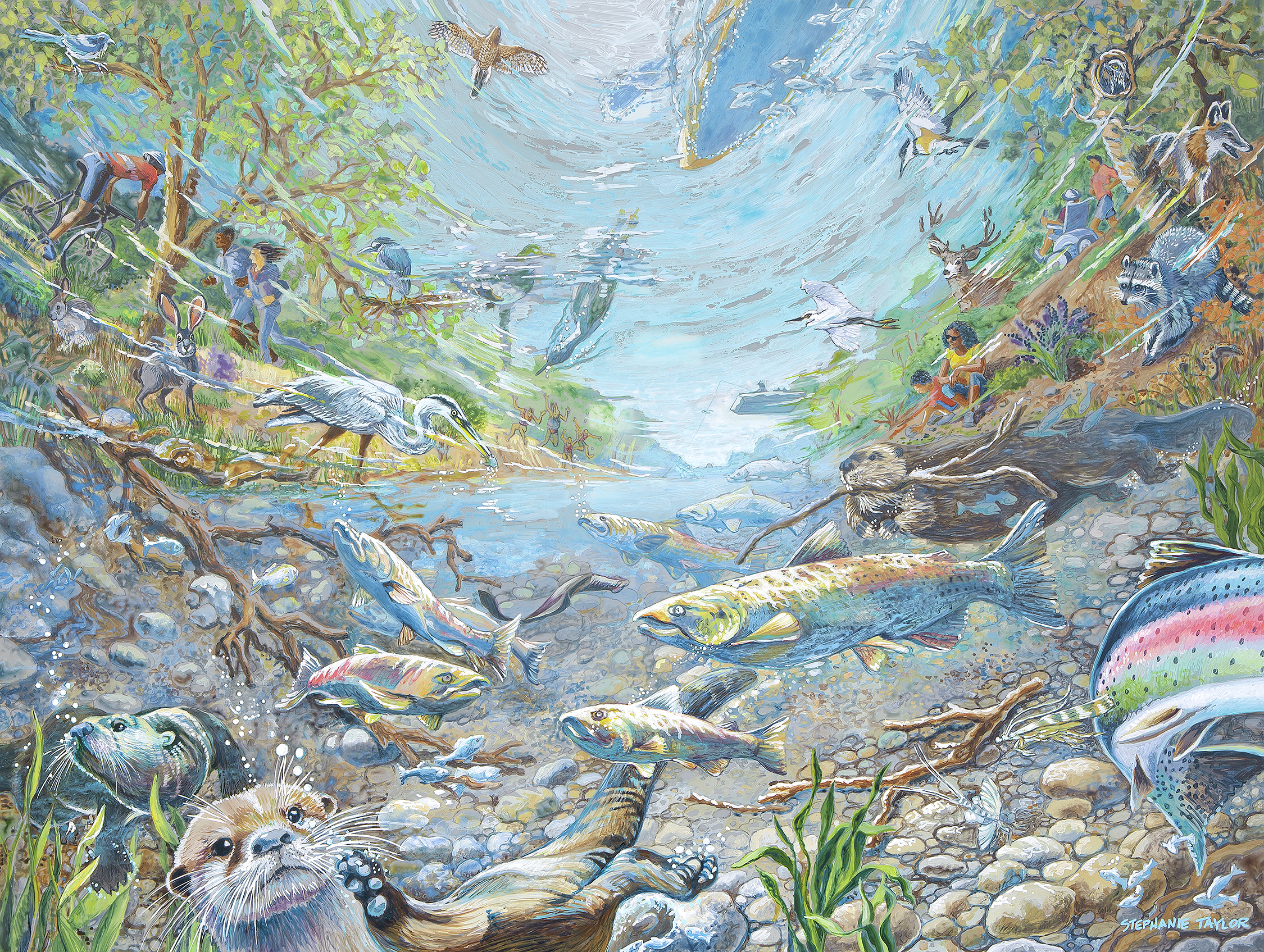 Click here to see the installation of the mural at Sacramento County Administration Center plaza, 700 I St.
My commitment to learning about California water started in a serious way with a painting I did for the San Francisco Hilton in 1997. As a 4th generation Californian, I was ashamed to admit that I knew nothing about where water comes from and where it's going. Having grown up in Sacramento, I spent many summers as a child on the Upper American, very near where gold was discovered.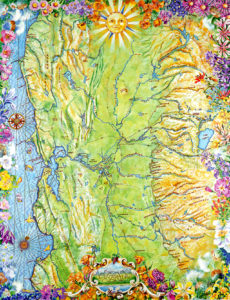 That same year, I created a painting for Rita Schmidt Sudman, Executive Director of the Water Education Foundation.
In 2011, I started writing as a freelance Op-Ed contributor to the Sacramento Bee, with a series, "California Sketches." So many essays and paintings were about water that I convinced Rita to collaborate on a book. We starting writing "Water: More or Less," just as the severity of yet another drought was intensifying in 2015. Published in 2016, we updated it for changing conditions in 2017 and 2018. The images I see on the news of low water levels at Folsom Lake are worse than the pictures I took of the same stranded boat docks in 2016.