Writing
"Painters have often taught writers how to see."  – James Baldwin

     

The process of writing is very much the same as the process of making an installation or painting for me. With a deep interest in history and the role of location, I've always been fascinated with the research phase of projects. I collect information for writing in the same way, until my mind is overflowing with incomprehension. Then, like it's all contained in a blender, I turn on the switch, swirling all madly until elements float to the top. It's from all those years in advertising, I believe; what's the most important part of this story, what's the best image to tell a story. I've wanted to make books forever.
California State Library names Water: More or Less, Book of the Week, with this review:
"Water. In California water is life, and our cycles of drought and flood, of water wheeling and dealing are deadly serious business. In Water More or Less, Rita Sudman and Stephanie Taylor have responded to the all-consuming nature of this relationship, by assembling a diverse collection of expert perspectives on what water is to Californians. In this book, you can fish with oystermen about to lose their livelihood or read an account of how the peripheral canal initiative failed from the perspective of a water policy-maker. You can even walk an experimental forest with an ecologist, all while enjoying Taylor's luminous artwork. If you are a Californian or a westerner, or if you've benefited from California's agricultural or economic abundance, this book is a must-read."
Main Streets of California: a new series with the Bee. 
#1 in the series- Dutch Flat- that sign on Interstate 80 that few follow. A sweet Gold Rush town. #2 in the series- Rio Vista. Literally- a view of the Sacramento River. #3 in the series- follow me to Taft (where? you might ask?) in the middle of what looks like nowhere but which is actually a hugely productive oil producing are on the west side of the San Joaquin Valley. #4, Hanford- somewhere in the middle of nowhere in particular. Spectacular!

Click here to view video preview of book.
Click to purchase from Amazon.
Click to purchase from the Water Education Foundation.
Essays and paintings in the Sacramento Bee
A freelance Op-Ed contributor.  Learn More about Stephanie on sacbee.com
Sketches from Tuscany- coming soon.
A sketchbook of observations, photography, and paintings from several trips to Tuscany, including a five week stay in an authentic Medieval village. It will be an updated, more inclusive edition of Keyholes of Tuscany, available now on Amazon.
View on Amazon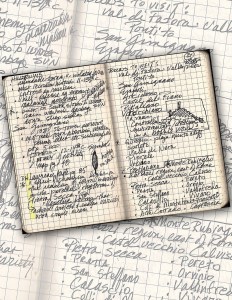 Sketches from the Galapagos- coming soon.
In August 2014, I fulfilled a life-long dream. I went to the Galapagos Islands. It was intense, challenging, and extremely rewarding.

Learn more on this article at sacbee.com
[/vc_column_text][/vc_column][/vc_row]