Obsessions, and now with crows.
They have so much personality, even the ceramic ones that only appear to be moving. Drawing on them is so much fun. No two are alike. They're a little larger that life-size, with steel bases. OK in most weather.
I haven't had a gallery since the econ crash of 2008. Now I'm with Archival Gallery, where I'll be in a 2-man show in July. To purchase an available crow now, or one or more, contact Dee, or send me a query email for pricing info. Can ship anywhere as they usually weigh less than 5 pounds.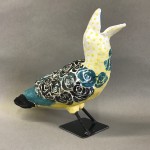 Crow peeking in window.

See my portfolio for more examples. I'll be adding them to the shop soon.