An Oyster Odyssey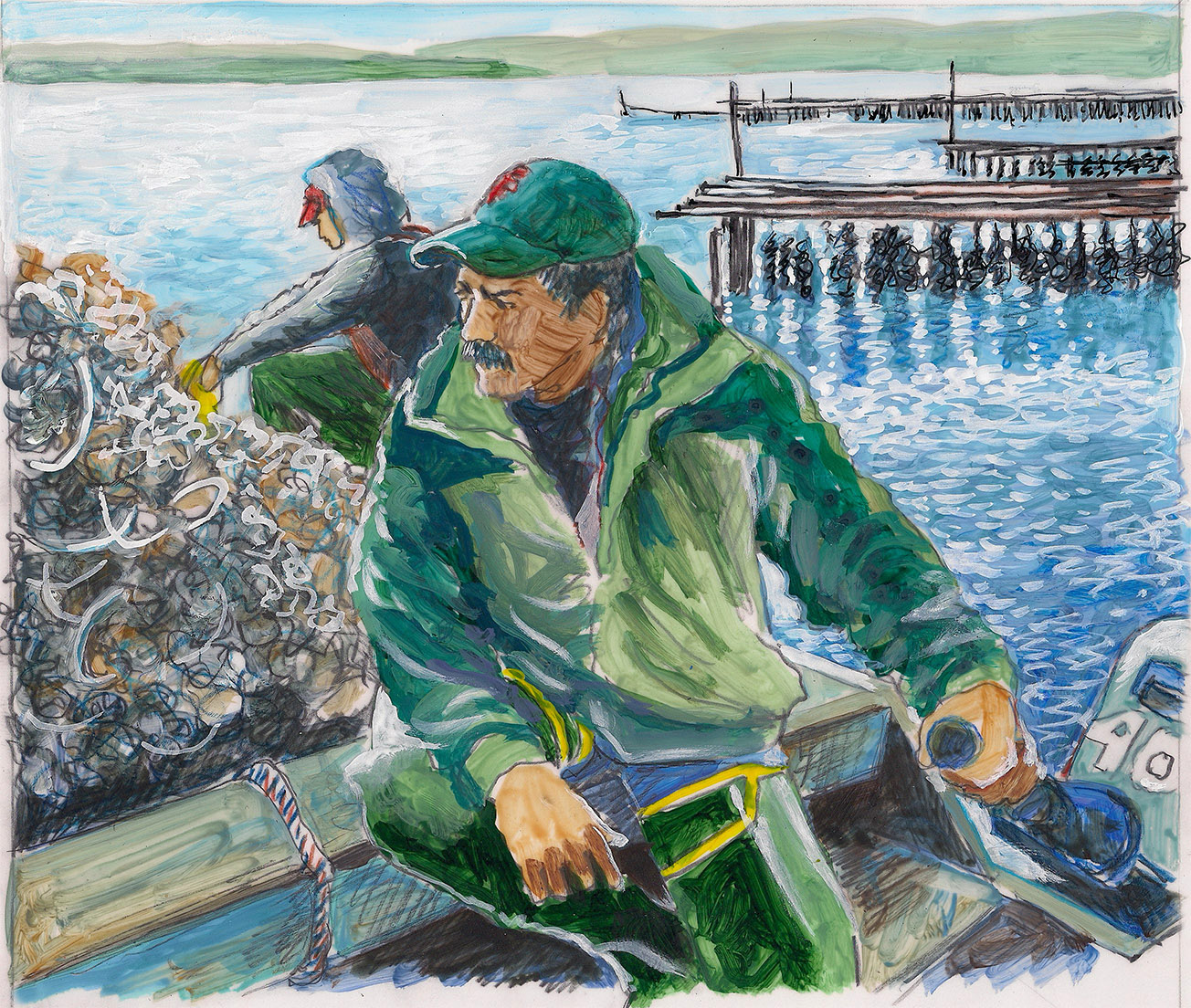 1974:  Point Reyes National Seashore has always been one of those California places, so close to the heart, so quiet, so calm. My mother and I visited an oyster cannery, on the fresh water end of Drakes Bay. Oysters don't come any fresher. She held a shell to her lips, slipped one down, and offered me a precious taste of pungent sea. I tried, I really did, but it took me several more years and a number of visits back to this wetlands estuary before I acquired an appreciation for such a raw and slimy substance.
Fractured by the San Andres Fault, Point Reyes is a peninsula ripped from California coastline. Moss hangs from trees in dense woodlands, and high on the crest, wind-blown ranch lands offer breathtaking views of the Pacific Ocean. To the south, Drakes Bay remains pretty much as it must have looked before 1579, when Sir Francis Drake arrived. In its tidal flows, prized oysters thrived, harvested by the Coast Miwok.   &   16th-century archeology
2013:  It's early morning at Drake's Bay Oyster Farm and the tide is out. Oystermen push an old wooden boat from a rickety dock and leap aboard. Their leathered faces expressionless, lost in thought, hoods pulled tight, settled down into the chill and the hum of a small outboard engine. Their day will be long, labor tedious, futures uncertain. We head toward the sea, to the oyster beds. From far away, they appear as long dark lines in a landscape of greys, hovering, like a mirage on the water.
There are 19 million oysters out here. 500,000 oysters are consumed, rich protein – grown with no fresh water. In a 1961 economic report, the National Park Service acknowledged the "public value" of the oyster farm that "presents exceptional educational opportunities."
Tying the boat to the oyster racks, the men step cautiously across the narrow wooden boards. One man lifts a batch of oysters strung together on a wire like a necklace. He passes it to another man, who passes it to another, until a small barge is piled high. About an hour later we're back on shore at the cannery where they'll spend the rest of their day sorting and packing.
It's a timeless process, this plankton to protein, this touch of human hands from seeding to sorting. As filter feeders, the oysters help keep water clean while a diverse ecosystem has responded, surrounding the beds like a reef.
But times change; the environmental movement had grown. In a 1961 economic report, the National Park Service acknowledged the "public value" of the oyster farm which "presents exceptional educational opportunities." In 1964, the Wilderness Act passed, and the Park, which owns the land under the cannery, said that the estuary should be protected as "an area untrammeled where man himself is a visitor who does not remain." When the old owner had sold his five acres to the Federal government in 1972, he signed a 40-year lease to farm. When Drake's Bay Oysters acquired the business in 2005, the new owners knew that the lease was due to expire in 2012.  Compromises could have been reached to preserve cultural and historic resources, and to demonstrate that man and nature can coexist in a working landscape. The new owner asked the federal government to extend the lease, but the Park Service had changed its mind.
Winter 2015:  The court did not extend the lease. The oyster farm closed at the end of 2015, and the Park Service began removing what remained of the cannery. In January 2016, a few hundred Point Reyes residents gathered for a potluck. Huge barbeques were covered with the very last of the freshly harvested oysters. Family and friends celebrated the history of the oysters, and at the same time, looked forward to a different kind of future.
Fall 2016:  From a descending road covered in crushed oyster shells, the estuary reveals water interspersed with clumps of salt water grasses. Green, blue, green, blue. Kelly green, sky blue. This is eelgrass, one of the aspects that makes this place unique. Tide has pushed dying eelgrass up on the shore, each blade covered with tiny hopeless dots of barnacles. They won't survive, but million more will, attached to thin, tape-like blades of grasses clumped across the bay's bottom.
I've come to experience the transformation of this estuary from a kayak. It's a rare day that water is smooth out here. I look to where I know the ocean waits. Wind is nil, air temp perfection between warm and cool. Light bounces off the surface, the bay subdued, soft, flat, grey water reflecting grey sky. The only sounds are paddles cutting into and lifting water dripping, and an occasional bird cry.
I battle my fear of being immersed in water where creatures loiter with the "undertoad," that mythic '70s monster of John Irving fame. Things that lurk on the bottom terrify me against all reason.
This day, this lovely day with an expert guide behind me is a small step towards addressing this fear – of water, of currents, of unrecognized forces that might carry me where I don't want to go. This is a choice day, my guide tells me, gliding over small stingrays and eel grass gently waving below. Other days aren't so blessed.
I plan on contacting the owners of the former Drakes Bay Oysters to find out if there's an end to the story. Who and what benefited by the removal of the oyster farm?