Frankenstein: a graphic interpretation
Taylor has been created a 210 page graphic interpretation of Mary Shelley's Frankenstein, in collaboration with the Sacramento Public Library. It's a celebration of the 200th anniversary of the publication of the original 1818 manuscript. Contact the Library to purchase a book.
Click here to see the process of creating my vision of Frankenstein.
Frankenstein in the Sacramento Business Journal
Listen to Rivkah Sass and Stephanie on Capital Public Radio on Tuesday, March 27th.
.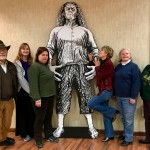 Stephanie and contributor Carrie Sessarego gave presentations at four local libraries this month. Stay in touch for more events